Peacekeeping operations
A year of commemorations and celebrations!
2023 marks many important milestones for the RCMP. We are celebrating our 150th anniversary. We are recognizing the INTERPOL Centennial. And we are honouring our past and current deployed police officers and civilian experts with two recognitions:
the 75th anniversary of the first United Nations peacekeeping operation
the 35th anniversary of the Nobel Peace Prize for United Nations peacekeepers.
Then and now
Like our 150th anniversary, we reflect on our storied past in peacekeeping. Since 1989, more than 4,000 Canadian police officers have participated in more than 60 peace operations abroad.
The first deployment to a peacekeeping operation for the RCMP was to Namibia. It was part of the United Nations Transition Assistance Group. A 100-member RCMP contingent deployed to monitor the South West African Police and to attend to polling stations during the first democratic elections in Namibia.
Today, our deployment numbers are lower, but our impact is just as meaningful. By deploying specialized police teams or in specific roles, such as Gender Advisors or Human Rights Monitors, we can make a targeted difference in fragile and conflict-affected states.
Canada deploys police officers and civilian experts to peace and stabilization missions through the Canadian Police Arrangement, a partnership between the RCMP, Public Safety Canada and Global Affairs Canada.
The RCMP also partners with 32 Provincial, Regional, Municipal and Indigenous police agencies to deploy personnel under the Canadian Police Arrangement.
The goal of the Canadian Police Arrangement is to support the Government of Canada's commitments to build a more secure world through Canadian participation in international peacekeeping and peace support operations, which are critical to longer-term security system reform and conflict-prevention efforts.
The history behind the day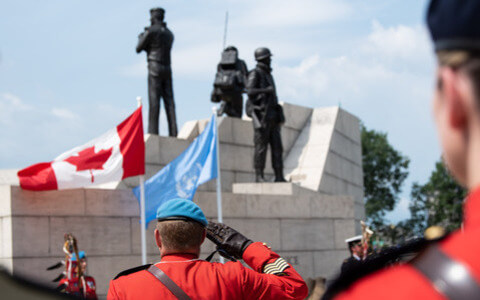 Did you know? Every year on August 9, Canada marks National Peacekeepers' Day to honour and remember the significant service and sacrifices of all Canadian peacekeepers, including police efforts.
Officially established in 2008, the date was chosen to commemorate the events of August 9, 1974. Nine Canadian peacekeepers serving with the United Nations Emergency Force in Egypt and Israel lost their lives when their plane was shot down over Syria.
Although police officers were not involved in that incident, we, too, have experienced loss during peacekeeping missions. In the devastating 2010 earthquake in Haiti, the RCMP lost two members – Chief Superintendent Douglas Coates and Sergeant Mark Gallagher. In their effort to better the lives of others, Doug and Mark ultimately gave their lives in the service of peace.
Ceremonies are held across Canada, including a national ceremony at the Peacekeeping monument in Ottawa, on the Sunday closest to August 9. This commemorative year, the Ottawa ceremony will take place on August 13, open to all who would like to pay respect.
Dedication to a cause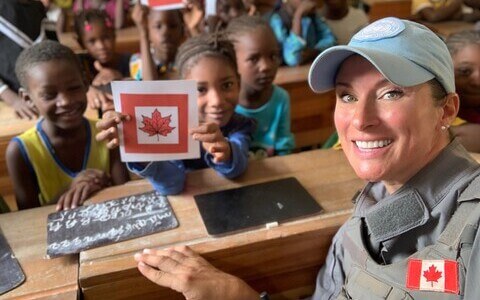 Canadian police are deployed to some of the world's most challenging places in the service of peace. They make significant sacrifices to serve overseas. They face considerable hardships, all while spending a year apart from their loved ones.
It's not surprising that in 1988 the Nobel Peace Prize was awarded to peacekeepers. Their efforts have made important contributions towards reducing tensions where a cease-fire has been negotiated but a peace treaty has yet to be established.
National Peacekeepers' Day affords Canadians the opportunity to express their pride not only in members of the Canadian Armed Forces, but also in members of the Royal Canadian Mounted Police, partner police agencies, and members of the diplomatic corps and civilians who have supported and continue to support international and domestic peace and stabilization operations.
Preparing for peace operations
I'm proud that our work is directly supporting the involvement of uniformed women in peace operations around the world.
Sergeant Tai Chang was the team lead of a group of five Canadian police officers deployed to Zambia recently. They were tasked to train women police officers for success in deploying to United Nations missions.
"This training helped Zambian women police officers prepare for the upcoming Assessment for Mission Service," he explained. "That is a required test for all police officers wishing to participate in a United Nations peacekeeping mission."
Increasing the participation of women in the full spectrum of United Nations policing activities is critical to operational effectiveness and efficiency. In some countries, driving or carrying a firearm is not part of their regular duties, which poses significant challenges to their deployment.
This preparatory training enhances the effectiveness of United Nations peace operations by:
increasing the deployment of qualified women police officers
developing a greater understanding of key factors that positively contribute to the deployment of women police officers, and
enhancing the utilization of women police officers in United Nations peace operations
"We've seen the progress firsthand. We conducted the language portion of the Assessment for Mission Service on the first day of the training to assess the class," Sergeant Chang explained. "Had the Assessment for Mission Service occurred without our assistance, the pass rate would have been approximately 48% for the language portion. By the end of the first week of training, we saw the pass rate for language assessment increase to 90%!"
The ratio of instructors to candidates is 1:10 for each training session. Each course lasts two weeks. On average, 50 candidates attend each training session. The sessions take place in the host countries, and Canada sends five instructors per session to provide training.
"I really feel that I can bring something concrete and beneficial to every woman that we're instructing," elaborated Sergeant Audrey-Anne Bilodeau of the Sûreté du Québec. "For example, with just one morning of providing tips and suggestions, every single Zambian participant passed the driving test within the allotted time and without knocking over any cones!"
The equipment and materials Canada purchased through the Elsie Initiative, combined with the training provided by the Canadian police officers, enabled the Zambian participants to acquire new skills that will undoubtedly help them during the Assessment for Mission Service and in their deployment in a peacekeeping mission.
Canadian expertise is highly valued, and these deployments are an opportunity to improve the capacity of other Police Contributing Countries to United Nations missions.