Senior Executive Committee
Role and mandate
The Senior Executive Committee (SEC) is the senior decision making forum established by the Commissioner for the development and approval of strategic, force-wide policies, pursuant to and consistent with the Commissioner's authority under section 5 of the RCMP Act.
The role of Senior Executive Committee is to develop, promote and communicate strategic priorities, strategic objectives, management strategies and performance management for the purpose of direction and accountability.
Senior Executive Committee
Commissioner
Deputy Commissioner, Contract and Indigenous Policing
Deputy Commissioner, Federal Policing
Deputy Commissioner, Specialized Policing Services
Senior Assistant Deputy Minister Reform, Accountability and Culture
Chief Financial Officer
Chief Human Resources Officer
Deputy Commissioner, Commanding Officer for K Division
Deputy Commissioner, Commanding Officer for E Division
Chief Strategic Policy, External Relations and Communications Officer
Biographies
Mike Duheme
Mike Duheme is honoured to serve as Commissioner of the RCMP. With more than 35 years as a police officer, he brings a wide range of policing experience to his current role.
Hailing from Chambly, Quebec, he began his career as a general duty investigator in New Minas, Nova Scotia. He has served in four provinces across Canada, and internationally on a Kosovo peacekeeping mission. Over the course of his career, he has been a member of the RCMP's Emergency Response Team, a VIP personal protection officer and Operations Commander for the Francophone Summit.
In 2015, Commissioner Duheme was promoted to Officer in Charge of Parliamentary Protective Services, and he became the first Director of the Parliamentary Protective Service. With over 500 human resources under his command, he implemented strategies to facilitate integration among three organizationally distinct units.
In 2016, he became Commanding Officer of National Division, where he oversaw the conduct of sensitive and international investigations that impact Canada's national interests, as well as protective policing services in the National Capital Region. His duties also included leading the establishment of a dedicated cybercrime investigative team focused on combatting significant threats from transnational organized crime groups and threats to Canada's critical infrastructure.
Prior to his appointment as Commissioner in March 2023, he served as Deputy Commissioner of Federal Policing. This core function of the RCMP includes investigating drugs and organized crime, economic crime, and terrorist criminal activity; enforcing federal statutes and securing Canada's border; conducting international capacity building, liaison, and peacekeeping; and ensuring the safety of major events, state officials, dignitaries and foreign missions.
Commissioner Duheme recognizes that the RCMP's employees are our best ambassadors. He remains steadfast in his commitment to support the active participation of every employee, to foster a positive work environment, and to promote innovative ideas to improve the RCMP.
With his strong sense of leadership, he remains fully engaged in furthering the RCMP's modernization goals, strengthening relationships with all partners and Canadians, and continuing to protect and support the safety of communities in Canada and beyond.
Jodie Boudreau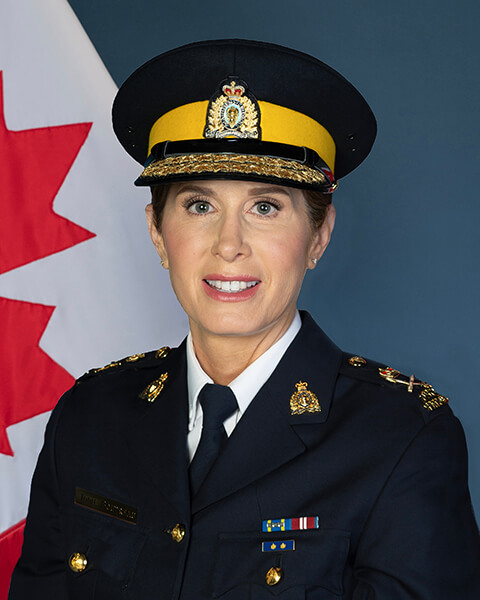 The Deputy Commissioner of Contract and Indigenous Policing is responsible for overseeing delivery of local policing services in Canada's three territories and in all provinces except Ontario and Quebec. She and her team ensure a uniform level of service and consistent responses to operational issues that arise as a result of the RCMP's frontline policing responsibilities. They are frequently called upon to provide leadership to the broader public safety community to advance federal priorities, including providing culturally competent police services to more than 600 Indigenous communities.
Deputy Commissioner Jodie Boudreau joined the Royal Canadian Mounted Police in 1992 as a general duty police officer in E Division (British Columbia). Her early career included working as a federal drug enforcement officer on Vancouver Island before continuing in general duty policing in the Lower Mainland.
Deputy Commissioner Boudreau also has experience as an undercover operator, was a member of the Tactical Troop, an Executive Officer, Critical Incident Commander, Assistant District Commander and Deputy Criminal Operations Officer.
In 2018, Jodie became the RCMP's Commanding Officer in Ontario (O Division) prior to assuming the role of Deputy Commissioner in 2023. She has also served as Aide-de-Camp to Alberta's Lieutenant Governor and is the recipient of the Queen Elizabeth II Diamond Jubilee Commemorative Medal and the RCMP's Long Service Medal
Mark Flynn
Deputy Commissioner Mark Flynn is responsible for Federal Policing which includes both domestic and international operations. In his role, he is responsible for National Security, Protective Policing, Border Integrity, Criminal Operations, International Special Services, and Strategic Management.
Deputy Commissioner Flynn began his RCMP career in 1998 as a general duty officer in M Division, in Whitehorse. His early career included working as a plain clothes officer in Whitehorse, Technical Operations in Ottawa, and in other operational roles across Canada.
In December 2020, Deputy Commissioner Flynn was appointed to the position of Assistant Commissioner responsible for the governance and oversight of the RCMP Federal Policing National Security and Protective Policing programs.
Prior to taking the Assistant Commissioner role, Deputy Commissioner Flynn was responsible for the RCMP Federal Policing Cybercrime and Financial Crime programs. He has over a decade of experience in covert electronic surveillance in support of all types of investigation including national security, transnational organized crime and other serious crime investigations. Deputy Commissioner Flynn's experience extends to policy work in legislative reform, the National Wiretap Expert Committee, delivery of training to police and prosecutors and instruction and moderation of executive officer leadership training.
Bryan Larkin
Deputy Commissioner Bryan Larkin is responsible for Specialized Policing Services, a broad range of critical services that include the Canadian Firearms Program, the Canadian Police College, Criminal Intelligence Service Canada, the Information Management / Information Technology Program, Forensic Science and Identification Services, Departmental Security, and Technical Operations. His responsibilities also include stewardship for National Police Services, a suite of scientific, technological and police educational programs that support the broader Canadian law enforcement community.
Bryan joins the RCMP from the Waterloo Regional Police Service (WRPS) where he served as Chief since 2014.
Bryan's extensive police leadership experience includes serving as Chief of the Guelph Police Service, as Director at the International Association of Chiefs of Police and, most recently, as President of the Canadian Association of Chiefs of Police. In his previous roles, he's accessed and relied on SPS services and gathered feedback from police agencies across Canada.
Bryan began his policing career in 1991 as a member of the Waterloo Regional Police Service, working as a front-line Constable assigned to Division #1 in Kitchener. Over the course of his career, he's held a number of progressively responsible positions including: Community and Media Relations; Special Assignments; Traffic Services; Human Resources, Recruiting; Media Officer; Executive Officer to the Chief of Police; and Superintendent of Central Division.
Alison Whelan
In May 2023, Alison was appointed as the Senior Assistant Deputy Minister Reform, Accountability and Culture. In this role, Alison is leading a centralized, strategic approach to RCMP reform and transformation. Importantly, this includes managing the RCMP's response to the Mass Casualty Commission final report and recommendations – and those of other external reports – through a holistic, organization-wide approach. Her area of responsibility also includes leadership and coordination of major organizational operational and culture reform initiatives. The secretariat for the RCMP's Management Advisory Board also falls under Alison's purview.
Alison has been with the RCMP since 2003, occupying research and strategic policy positions before taking on more senior and executive-level roles. In 2013, Alison joined the RCMP's Federal Policing as Director General Strategic Policy, and later as the Executive Director. In 2018, she was appointed Executive Director of National Security and Protective Policing. In 2020, Alison became the RCMP's Chief Strategic Policy and External Relations Officer, responsible for a broad range of responsibilities, including cabinet and parliamentary affairs, executive governance, ministerial affairs, national communication services, and access to information and privacy.
Alison began her professional career at the Public Policy Forum. She holds a Master of Arts degree in Political Science from Memorial University of Newfoundland, and completed the Harvard Kennedy School's Senior Executives in National and International Security program.
Samantha Hazen
Samantha (Sam) Hazen is the RCMP's Chief Financial Officer. She helps the Commissioner achieve the organization's strategic and operational priorities by providing guidance on financial administration, strategic investment, asset and real property management, procurement and contracting and corporate management systems.
Sam brings a wealth of knowledge and experience to the RCMP. From 2020 until 2022, she served as the Assistant Deputy Minister and Chief Financial Officer at Shared Services Canada. Between 2015 and 2020, she provided leadership as Shared Services Canada's Deputy Chief Financial Officer, working to strengthened Shared Services Canada's relationship with other central agencies. She was instrumental in obtaining funding over many federal budget cycles to support Shared Services Canada's mandate. She also served as the Executive Director of Financial Policy and Community Development at the Treasury Board Secretariat, Office of the Comptroller General, where she was responsible for strengthening financial management oversight and financial community development across the federal government.
Sam holds an Honours Bachelor of Commerce degree from the University of Ottawa and is a Chartered Professional Accountant (CPA, CA) and a Certified Internal Auditor (CIA).
In January 2013, Samantha received the Queen Elizabeth II Diamond Jubilee Medal for her outstanding contribution to the Public Service.
Nadine Huggins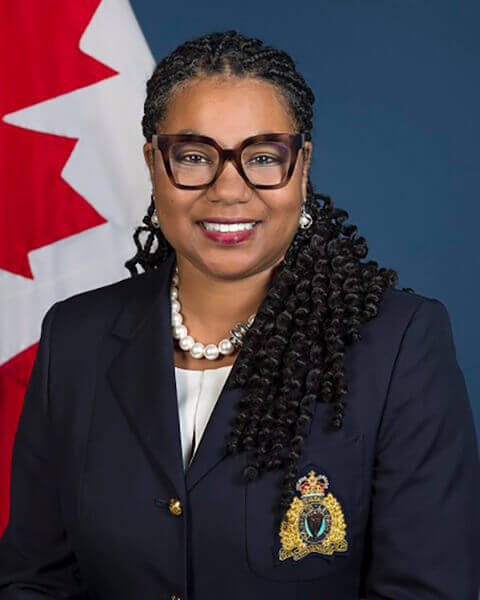 In May 2022, Nadine Huggins became the RCMP's Chief Human Resources Officer, responsible for all matters related to the well-being, safety and compensation of RCMP employees. The Chief Human Resources Officer's leadership is fundamental to many of the organization's ongoing modernization initiatives.
With several years of private sector experience and more than twenty years of accomplished public service, Nadine has built a career focussed on finding solutions to complex issues, leading teams and using a strength- based approach to promote change.
She began working for the RCMP in 2020, leading the development of our People Management Modernization. Under Nadine's direction, we created and are currently driving the People Strategy and the Vision 150 Equity Accountability and Trust action plan both of which are shifting mindsets and behaviours and preparing the RCMP to meet its future mandate.
Nadine works to build a healthy, respectful, diverse and inclusive workplace. She led the development and implementation of the RCMP's Equity, Diversity and Inclusion Strategy and is now leading Recruitment Renewal to ensure our candidates have the skills, characteristics and attributes needed to meet current and future policing needs. In January 2021, she became the RCMP's first Senior Designated Official for Diversity and Inclusion, collaborating with employees who are members of diverse communities.
The Chief Human Resources Officer is responsible for all matters related to people management policy, the well-being, safety and compensation of RCMP employees.
Curtis Zablocki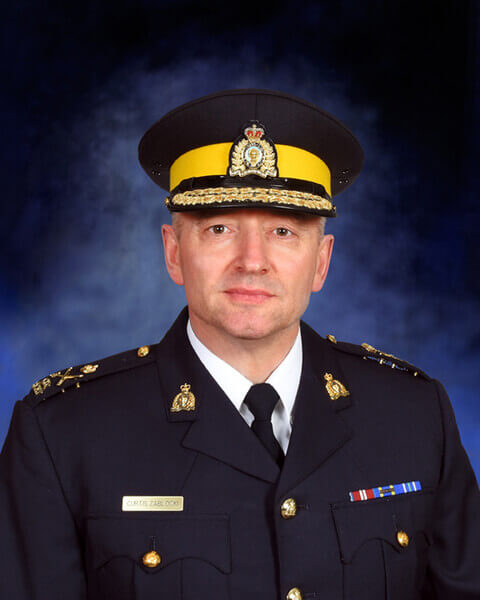 As Commanding Officer for K Division, Deputy Commissioner Curtis Zablocki is responsible for overseeing Alberta, the RCMP's second largest division. K Division provides federal police services on behalf of the Government of Canada, serves as Alberta's contract provincial police force, provides contract municipal police services to large municipalities, and is a key partner in joint forces law enforcement operations.
Deputy Commissioner Curtis Zablocki, a 31-year veteran of the RCMP, was born and raised in rural Saskatchewan. In September of 2018, he was appointed the 25th Commanding Officer of the Alberta RCMP (K Division).
Curtis knew Alberta well before becoming its Commanding Officer, having spent most of his RCMP career in the province performing operational duties including district advisory and detachment command functions, and serving as the Deputy Criminal Operations Officer. He then moved to Saskatchewan where he served as Commanding Officer for two years.
When he accepted his current role, Curtis set three divisional priorities to focus and guide K Division RCMP employees: our people, our community and our service. With a strong, healthy workforce and strong relationships with the communities it serves, K Division continues to build a foundation that helps it be responsive and flexible while keeping Alberta safe.
Curtis holds a Bachelor's degree in Criminology from the University of Alberta and is a Member of the Order of Merit of Police Forces.
Dwayne McDonald
As Commanding Officer for E Division, Deputy Commissioner Dwayne McDonald is responsible for overseeing the RCMP's largest division British Columbia. E Division provides federal police services on behalf of the Government of Canada, serves as British Columbia's contract provincial police force, provides contract municipal police services to large municipalities, and is a key partner in joint forces law enforcement operations.
Deputy Commissioner Dwayne McDonald has over 29 years of experience in law enforcement having served both the Canada Border Services Agency and the RCMP. Deputy Commissioner McDonald has a vast knowledge of federal, provincial and municipal policing with experience in positions of leadership and command in a number of high profile RCMP positions in British Columbia.
Most recently, Dwayne served as the Assistant Commissioner and Criminal Operations Officer for Federal, Investigative Services and Organized Crime for the province of British Columbia. He had oversight of a large portfolio of including RCMP Major Crime, Police Support Services, Criminal Intelligence, Federal Policing, National Security, and the Combined Forces Special Enforcement Unit – British Columbia.
Dwayne holds a Bachelor in Business Administration from Simon Fraser University. He lectures at the Canadian Police College in Major Case Management, Major Crime and Kidnapping investigations. He belongs to the Canadian Association of Chiefs of Police, and is a member of a number of significant law enforcement and intelligence-related committees.
In 2015, Dwayne was invested as a Member of the Order of Merit of Police Forces by The Governor General of Canada, His Excellency the Right Honorable David Johnston.
Rouben Khatchadourian
Rouben Khatchadourian is a senior executive in the Canadian federal government, joining the Royal Canadian Mounted Police as the Chief Strategic Policy, External Relations and Communications Officer in August 2023. As a member of the Senior Executive Committee, he provides leadership on RCMP-wide policy development, cabinet and parliamentary affairs. He serves as a key liaison with Central Agencies to advance programs, policy and funding proposals that bolster RCMP's capacities to adapt and deliver public safety and law enforcement priorities. His portfolio also includes the RCMP's National Communications Service and Public Affairs program.
He was previously at the Public Health Agency of Canada at the height of Canada's COVID-19 pandemic response as Vice President for Strategic Policy. His portfolio was accountable for advancing public health in government decision-making, inter-governmental relations with Provinces and Territories, and Public Health Agency of Canada institutional renewal in light of lessons learned during the pandemic. From 2019-2022 he was in the Privy Council Office as the Director of Operations in the Economic and Regional Development Policy secretariat. In this position, he was responsible for leading the team that supports Cabinet committee business and whole-of-government policy coordination for the following issue areas: environment and climate change, energy and natural resources, agriculture, transport, and fisheries and oceans.
Prior to Privy Council Office he served as a career diplomat in the Canadian Foreign Service for 23 years, holding various leadership positions at Global Affairs Canada in the trade, global and political and military issues portfolios. Notable executive positions included: Director General for Trade Controls regulating the trade of supply-managed commodities and the exports of military and sensitive goods; Corporate Secretary; Executive Director for Defence and Security Relations; and Head of the G8 Presidency Unit during the G8 Muskoka and G20 Toronto Summits (2008-2010). Diplomatic postings in missions abroad included London, Beijing, Amman and Riyadh.
Rouben is a graduate of École des Hautes Études Commerciales (BBA) and the London School of Economics and Political science, (Executive Master of Sciences Diplomacy and International Strategy).